Canvas Messenger Bag Laptop Bags Computer Bags
Convertible Backpack Messenger Bag Shoulder Bag Laptop Case Handbag Business Briefcase Multi-Functional Travel Rucksack Fits 17.3 Inch Laptop for Men/Women
Material: Canvas
Color: Gray
Dimensions: 18.8 x 5.1 x 13.7 inches; Fits up to 17.3 inches laptop. Still more room for you to keep 2-3 days summer clothes, ideal design for travel, business trip, shool life or work.

Three carrying styles. You could use it as backpack shoulder bag and messenger bag. Also the straps can be hidden when you use it a messenger bag and shoulder bag. Why you should choose this bag: one bag pay and getting three bags use!

Four outside pockets, convenient to organize your items you want to carry, Just forget the pain point of finding things anywhere!

Roomy laptop compartment and accessory compartment.Special design laptop compartment with Telescopic belt provides more protection for your laptop. Still keep 3 days clothes for traveling. Roomy enough for your need.

Lightweight design is easy for carrying. The top grab handle offers quick grab-and-go style. Ergonomic design ensures the dispersion of gravity of the fulled bag.
Description:Convertible Bag
Weight: 1.2 kg
Color: Dark Grey
Material: Canvas ; 210D waterproof polyester lining; Leather
Size: 18.8 x 5.1 x 13.7 inches; Fits up to 17.3 inches laptop.
Backpack carrying style
Shoulder bag carrying style
Mesenger bag carrying style
Genuine Leather zipper pull
Luggage belt design: 7.8 inches wide
Backpack style
Comfortable back strap system, easy and convenient to load on your back.
Shoulder bag style
One back pocket for hiding the backpack straps, A removable Shoulder strap been include, when you use it as a shoulder bag.
Messenger bag style
One back pocket for hiding the backpack straps when you use it as a messenger bag.
Interior Dimensions
6 front pockets' interior dimensions
2x A pockets: 6.0×6.0x0.5 inches (LxHxW)
2x B pockets: 7.0×7.0x0.2 inches (LxHxW)
2x C pockets: 7.0×7.0x1.0 inches (LxHxW)
3 compartments' interior dimension
Accessory compartment: 17.5×12.5×2.5 inches (LxHxW)
Laptop compartment: 16.5×12.5×2.0 inches (LxHxW)
Clothes compartment: 17.5×12.5×2.0 inches (LxHxW)
Measure Your Laptop dimensions!
It is important to take a remeasure your laptop dimensions before ordering. This bag's laptop compartment's interior size is: 16.5×12.5×2.0, make sure your laptop's length and height is under 16.5×12.5 inches.
This bag is compatible most 17.3 inches laptop brands on the market, please don't worry about it!
Varies pockets and roomy compartments provide you a powerful organization ability, this convertible bag is perfect for your daily use like, office life, business trip, school life, travel etc.
* Two zipper pockets inside and two open cellphone pockets
* Two open pockets on the front
* Very soft handle make it comfortable to hold by hand, arm and shoulder
* Strap length is freely adjustable
* Perfect for school, travel, shopping,books, laptop, ipad and essentials.
This canvas messenger bag fit 17 inch laptop comfortably and zip close. It is a perfect canvas computer bag. There are practical pockets for wallet, cellphone. It has a padded tablet pocket.This canvas messenger bag has a easy zip-close,leather buckle and magnetic snaps, these makes it easy to access the front pockets.All the hardware of this bag are good-quality and has held up beautifully
This is a carry on bag, larger than a purse and small enough to take around with you as your everyday bag. This bag was perfect for a carry on bag. It is held up to airport travel and heavy use. The leather and canvas both look very nice together. The leather buckles are well made, and the design of the bag makes good, you can find economic use of the space in this canvas messenger bag, for example the two front pockets, two zippered pockets and three non zippered pockets within, and there is a flat pocket on the back of the bag with magnetic snap closure. The strap and handle are very well made and it makes my hand and shoulder comfortable.
The padded tablet compartment fits your iPad, also fits a 13 inch MacBook Pro. The two magnetic snaps can hold the top flap down and it's very strong and designed in a way that keeps them from slipping. When you carry the bag by the handle, the magnetic snaps will keep the flap closed, and it will stay closed. The distressed leather flap makes this canvas messenger bag more vintage looking. There are 2 front pockets, you can put your computer cables, eyeglass cases, etc in this great storage. There is a small zipper pocket inside for you to take your wallets or cellphones.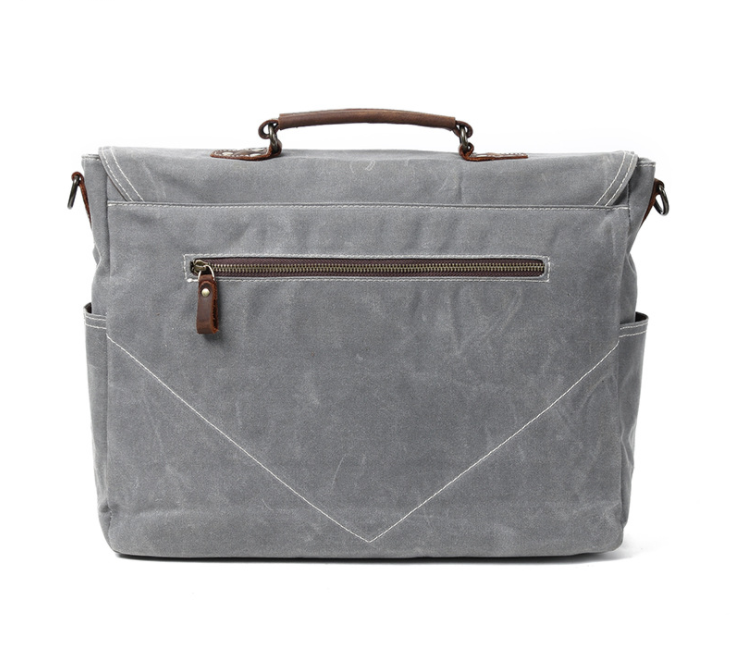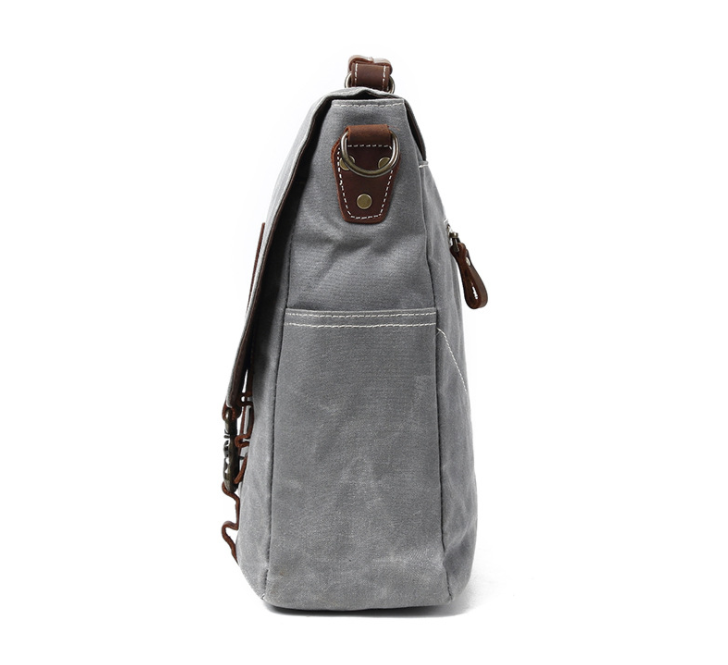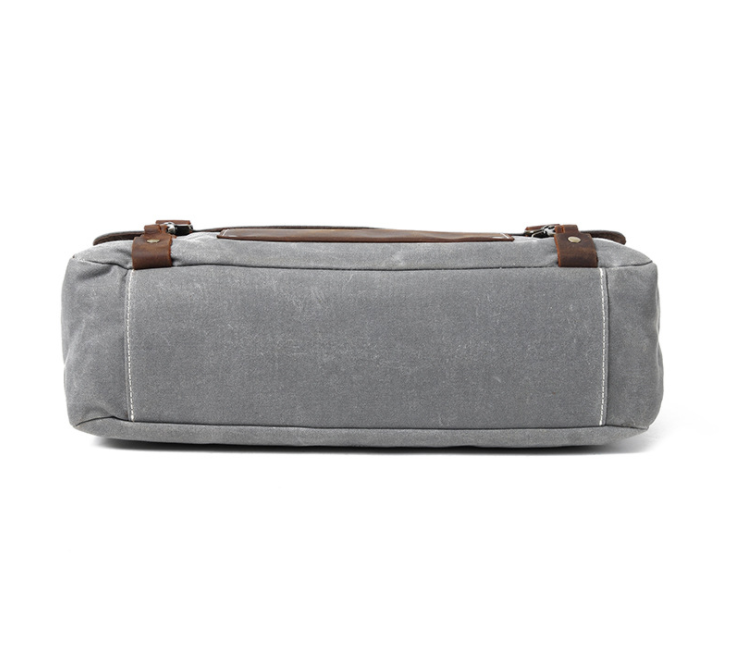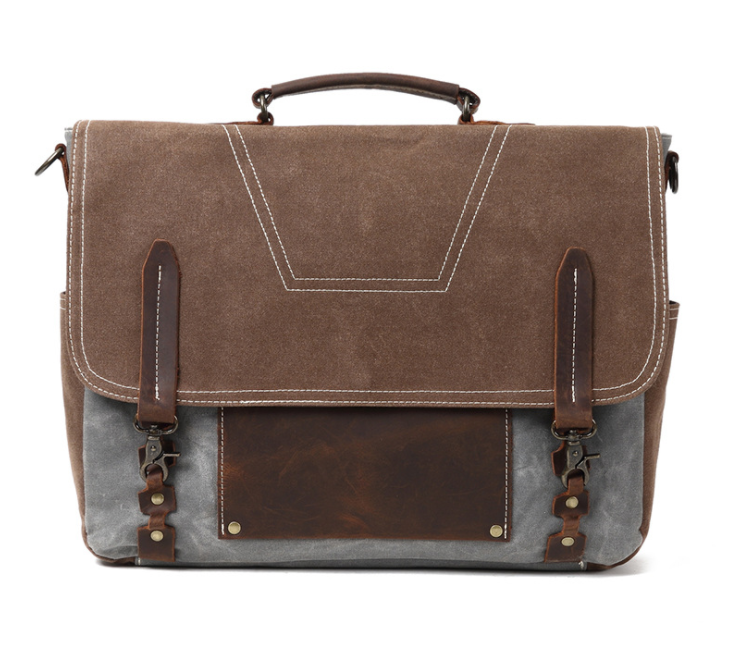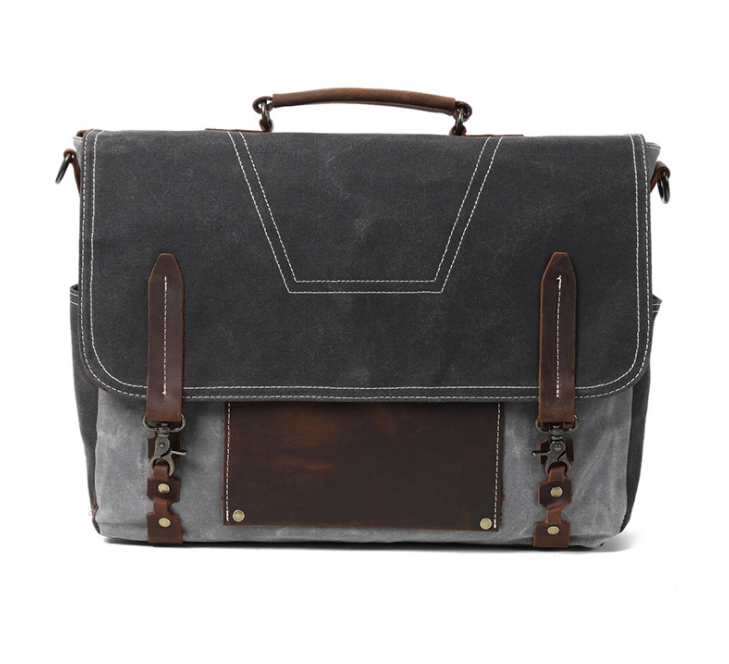 ---
Follow us on Instagram @bagshopclub
Buyers Who Bought This Bag Also Searched: Canvas Messenger Bags for Men , Waxed Canvas Messenger Bag